/
E2zero® 14 mil Radon & Vapor Barrier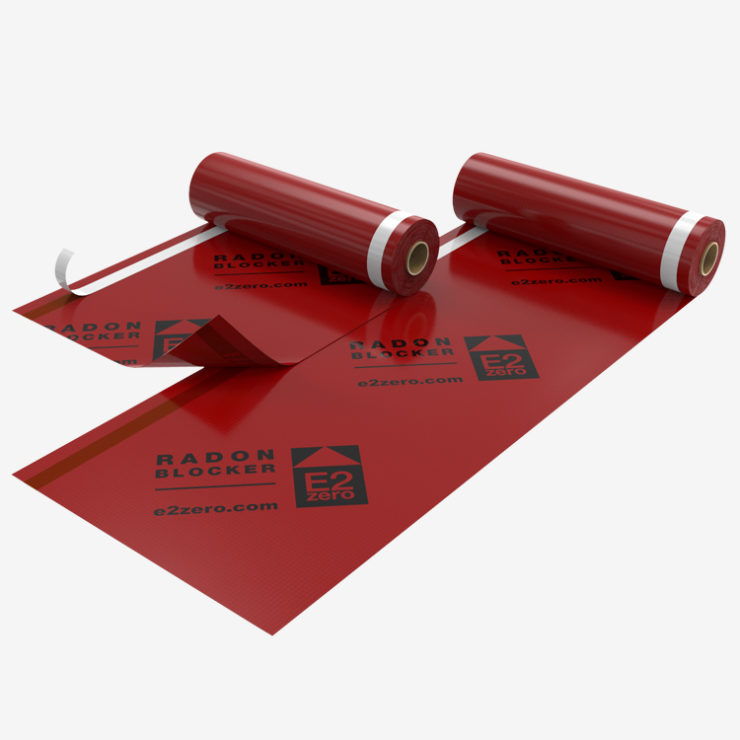 Exterior
E2zero® 14 mil Radon & Vapor Barrier
Superior protection against soil gases (radon, methane) and water vapor diffusion. Optional: integrated self-adhesive tapes.
Order a free product sample
Function
Radon and vapor-tight membrane for under-slab and crawlspace installations. The membrane prevents gas and moisture migration from soil into the building.
Advantages
Optional: Reduced labor costs due to
integrated self-adhesive tape.
Can be used in commercial, residential,
and industrial applications.
Durable and tear-resistant membrane.
Resists deterioration.
Lightweight and easy to install.
Data Sheet
Application
The Radon and Moisture Blocker can be installed over an aggregate, sand, or tamped earth base in case of under-slab installations or in crawlspaces. The subsoil should be even and free of topsoil and vegetable matter. An additional surface blinding of soft sand (cushion layer or sand base) is recommended in case of sharp-edged aggregate to prevent puncture of the barrier during installation.
Installation:
Create a six-inch overlap of the Radon and Moisture Blocker at all seams and seal it gas-tight at terminating edges to the foundation wall, slab or grade beam. Also seal around permanent penetrations and avoid puncturing or damages of the Radon and Moisture Blocker. Damaged areas of the Radon and Moisture Blocker must be repaired.
Note: These instructions are meant to be used as a guide, and do not take into account specific job site situations. Consult local building codes and regulations along with the building owner or owner's representative before proceeding. If you have any questions regarding the above mentioned installation instructions or E2zero ® products, please ask us at www.e2zero.com for technical assistance.
Complementing E2zero® Components